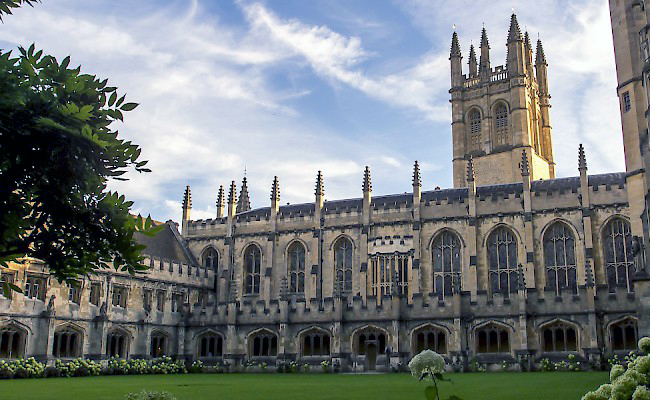 DATES & CONFIRMED PRICES FOR THE 2024 SUMMER SCHOOL PROGRAMME ARE:
Date:
Saturday 29 June 2024 – Saturday 03 August 2024
Price:
£7,200 including meals and accommodation and all tuition, Bodleian Library registration, day excursions, field trips and social events and the Four-Day Field Excursion. This Excursion is required for (a) all University of Michigan applicants, (b) other applicants for the Environment Programme (including Butler IFSA), (c) Medieval Programme applicants (excluding Butler University IFSA). For all other applicants (including Butler IFSA), the Four-Day Field Excursion is optional subject to the availability of places or they can elect instead to pay the lower fee of £6,500.
How to Apply
After deciding which course you want to study, and then which option within your chosen course you would like, you are required to complete the following application forms, and supply an academic endorsement or reference. The deadline for Applications is 20th March 2024. Applications must be accompanied by an academic endorsement or reference, and can be made either personally, or through your home institution and can also be made online through our website.
You will need to complete the following documents
General Application Form for 2024
Field Excursion Application Form 2024
Your application needs to be accompanied by a signed, academic recommendation (or reference letter) from one of your professors or advisers certifying your suitability for the Summer School. Before you arrange this, check whether your home institution has a partnership arrangement with St Peter's College and will send this on your behalf; or whether you need to arrange and send the recommendation yourself. The recommendation should be on your institutional letterhead and can either be mailed as soon as possible after an electronic application, or accompany an electronic application if it is available in electronic format.
Email all these as attachments to: kenneth.addison@spc.ox.ac.uk and also cc: (copy) to admin@oxsummerschools.co.uk alternatively,  mail by post to, Dr Ken Addison, Summer School Academic Advisor, St Peter's College, New Inn Hall Street, Oxford OX1 2DL, UK or  For any application issues, email Academic Advisor, Dr Ken Addison here at: kenneth.addison@spc.ox.ac.uk
Most of our partner universities assist in the selection, application and registration of students and some also manage the transfer of funds to Oxford on their behalf. The professor encouraging your application or your university's Study Abroad office, International Office, or equivalent will advise you.
Successful applicants, leading to the Offer of a Place, will be notified as soon as possible, and, by the very latest, 1st April 2024. Later applications might be considered if there are still places available.
Fees
Course Fees & Payment Schedules 2024
Your Place is secured by payment of a non-refundable deposit of £2,200 which should be paid as soon as possible after you receive the Offer of a Place and no later than 1st April 2024. Deposits are credited in full against the fee for the Course. Payment of the remainder (including the supplementary charge for the Four-day Field Excursion, if applicable) is due by 20th May 2024, seven weeks prior to the start of the Summer School.
Schedule of Applications & Payments:
By 20th March 2024 Deadline for Applications
By 21st March 2024 Confirmation of acceptance of application (by us)
By 1st April 2024 Offer of a place (from us)
By 21st April 2024 Deadline for Deposit (by you) £2,200
By 20th May 2024 Deadline for Payment of Remaining Balance £5,000 : OR £4,300 if electing not to participate in the 4-Day Excursion if appropriate
The deposit is not refundable under any circumstances once a student has been accepted on a Course. Participants are strongly advised to take out insurance cover against illness and mishaps that may arise between payment of the deposit and completion of the Summer School. A student who withdraws after making the final payment but not less than 14 days before the beginning of the Summer School will receive a full refund minus the deposit. No fees can be refunded after that date.
Please note that payments must be for the full £ Sterling amounts above, after any bank charges and currency exchange fees have been paid.
Course Fees & Payment Schedules 2024
Payment by direct bank transfer: if paying by this method, please notify us of the date of transaction so that we can track payment into our account.
© Dr Ken Addison, Oxford Academic Summer School Tours Ltd: for 2024
St Peter's College Summer School at Magdalen College, University of Oxford